EYLA DRYAD AtoM Installation
Published: 17/09/2021
EYLA DRYAD / ATOM INSTALLATION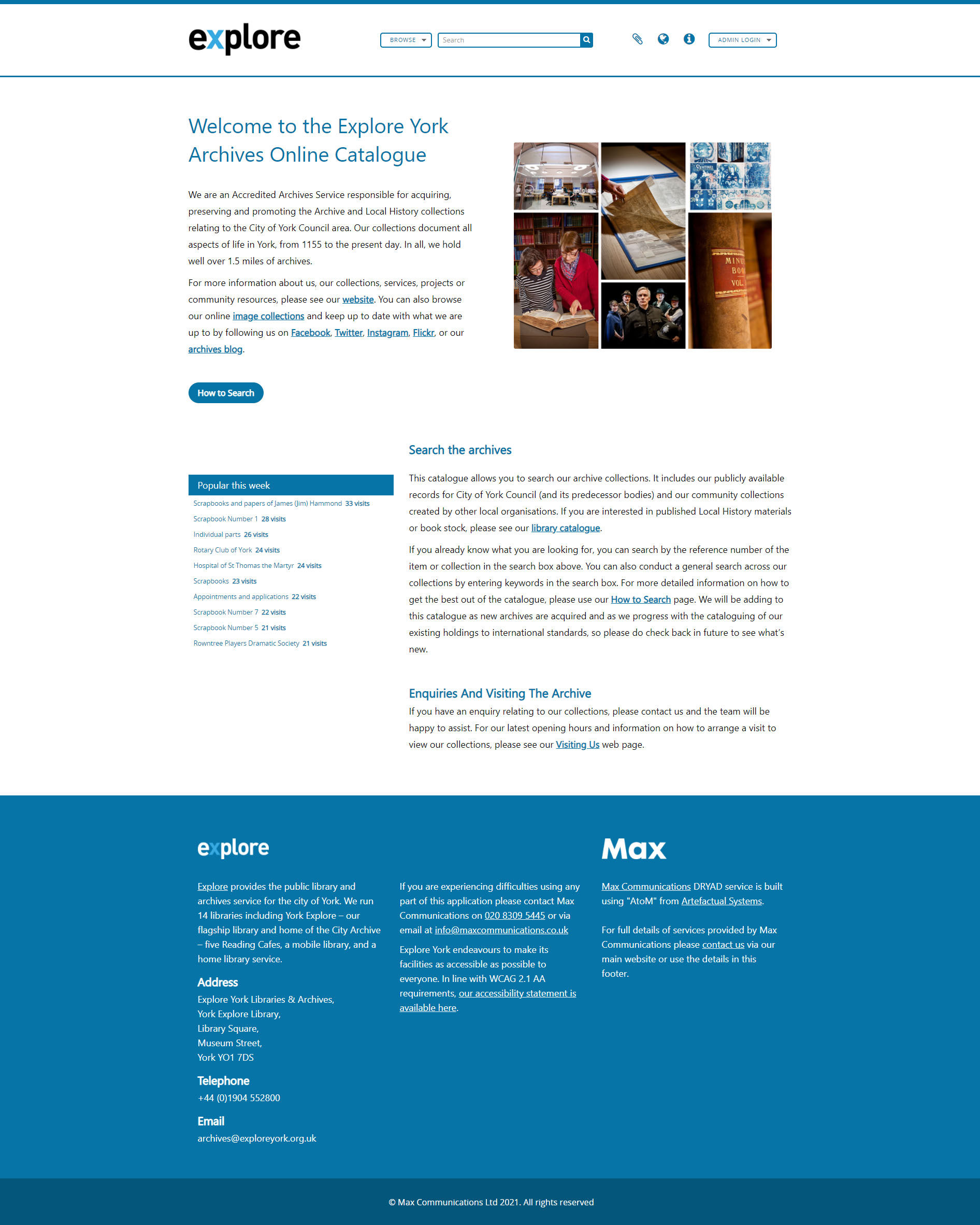 Max are delighted to announce the completion of a new bespoke AtoM / DRYAD installation for Explore York Libraries and Archives (EYLA). The completed application allows extensive, branded, user-friendly access to the organisation's archived materials including publicly available records for City of York Council as well as community collections created by other local organisations.

EYLA's priority when embarking on this project was to create a better front-end user experience than was provided by their existing CALM system and after examining a number of options, felt that AtoM, an ISADG standards compliant, non-proprietary, open-source Archive Management System created by Artefactual Systems provided the optimal solution for their own use case.

Their existing data comprised nearly 160,000 catalogue entries accumulated since 2012 and included data held in customised as well as standard fields. Unlike AtoM, which stores data in a single database, CALM uses a series of linked databases and as a result, the migration process can be complex and requires experience and in-depth knowledge of both systems in order to ensure that all data is migrated correctly.
Max's DRYAD Archive Management service leverages AtoM and has been built to take advantage of AtoM's innate flexibility to provide a solution tailored to meet every client's individual use case. One of the packages which comprises DRYAD is 'Crosswalker' a tool developed by Max specifically to facilitate migration of data from CALM to AtoM and in the event, 'Crosswalker' was integral to this migration process, helping ensure that a complex challenge was completed in a timely manner and with minimal fuss.
DRYAD additionally offers a secure hosting service on a private and separate UK based server and EYLA were happy to utilise this service.
The process was further aided by the solid working relationship which developed between EYLA and Max meaning that communication was easy and that any issues were dealt with quickly and effectively. Whilst formal communication was conducted via weekly Zoom meetings where progress was charted and updates given, the rapport built was such that staff working for both organisations felt comfortable emailing each other on an as-and-when basis, confident in the knowledge that questions would be answered and relevant support given.
Central to the DRYAD service is its customizability. EYLA's goal at the start of the project was to create an intuitive and visually pleasing front end experience for their users. Max's experience customising AtoM both as part of a WordPress website or as a standalone application meant that we were able to deliver a front end which incorporated EYLA's logo and adhered to their branding guidelines.
View the EYLA AtoM Installation
To discuss DRYAD or any of Max's services please use the buttons below or call us on 020 8309 5445 or to contact us via our contact page.